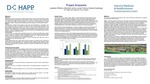 Title
Description
Objectives Project Anacostia aims to [1] help meet the Healthy People 2020 goal of reducing the disease burden of diabetes mellitus (DM) and improving the quality of life for all persons who have, or are at risk for, DM as outlined by the U.S. Department of Health and Human Services. [2] To increase community awareness of the social determinants of health related to obesity and diabetes. [3] Increase access to recreational facilities and healthy food options in Wards 7 &8 and [4] promote healthy lifestyle choices among youth in the Anacostia community.
Methods Our intervention is comprised of three progressive steps, which will be implemented as a revitalization of the Anacostia Recreation Center. The first phase is an information session to educate community members on the goals, importance and proposed impact of this project, as well as provide didactic information on the pathophysiology, epidemiology and consequences of obesity and diabetes in their communities. The second phase is to increase healthy food access by creating a community garden containing organically grown fruits and vegetables. Lastly, we will implement a calisthenics park which would serve to encourage and enable community members to participate in bodyweight exercises . Proposed Impact In the short term, we propose that this intervention would serve to improve local health literacy, increase community awareness on obesity and diabetes pathophysiology and the social determinants underlying these diseases, increase the consumption of fruits and vegetables sourced from the organic gardens and finally, increase levels of physical activity and exercise among Anacostia youth. In the long term, we anticipate that this intervention will lead to decreased BMI's (Body Mass Index) of participating adolescents and communities at large.
Discussion Through addressing food access, health literacy and built environment, our intervention aims to minimize the disease burden of obesity and diabetes in the Anacostia community. Targeting the stark disparities in health status at the level of social determinants offers a sustainable and impactful avenue through which the many other underserved, underrepresented communities nation-wide may improve their health status and develop into thriving populations.
Disciplines
Community Health and Preventive Medicine | Endocrinology, Diabetes, and Metabolism | Public Health Education and Promotion
Recommended Citation
Williams, Lapoldeon; Lemma, Abenezer; Thomas, Janae; and Ouedraogo, Kafoued, "Project Anacostia" (2018). DC Health and Academic Prep Program (DC HAPP). 5.
https://hsrc.himmelfarb.gwu.edu/dchapp/5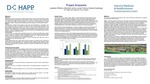 COinS