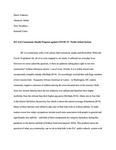 Description
D.C. is a community with a rich culture that's extremely sundry and diversified. When the COVID-19 epidemic hit, all of us were stopped in our tracks. It affected our everyday lives. However we never asked the question, is there an epidemic taking place right in our own community. Asthma influences almost 1 out of every 10 kids. It is a widely known and exceptionally treatable malady (McDade, 2014). To ensure that students with asthma get adequate care during the school year and to combate the threat of COVID-19 during the year, we propose the following:
To equip either classrooms or floors, especially for kids with asthma, with air purifiers that are going to circulate clean air so that they do not have any triggers like smells or mold

Plan to make a questionnaire that every student has to answer before entering the school in the morning to help know of COVID-19 exposure and students with asthma.

Train D.C. public schools teachers with C Diff cleaning procedures.

After school programming that provides students with masks, soap, and hand sanitizers to take home.
Publication Date
7-23-2020
Recommended Citation
Teshome, Dawit; Abebe, Abenezer; Nwadiaro, Emy; and Curtis, Kenndi, "D.C.S.O Community Health Proposal Against COVID-19 - Public School System" (2020). DC Health and Academic Prep Program (DC HAPP). 12.
https://hsrc.himmelfarb.gwu.edu/dchapp/12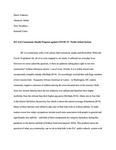 COinS