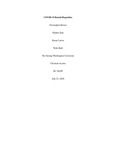 Description
A pandemic has taken over the world. Many countries, including the U.S., have experienced a large mortality rate because COVID-19 is a danger to many people. The U.S. has experienced massive changes in society in order to protect people because everyone is at risk. However, COVID-19 poses a larger threat to minorities than most other people in the United States.
Our community health project will provide solutions to both of these problems.
First, our team will work with news stations to disseminate the statistics that minorities are more likely to catch and die from the virus. Once the problem is clear to minorities, they will look for solutions. Our team will then provide our "Virus Diet" which will decrease the likelihood of dying from the virus. The "Virus Diet" will provide the information that using things like alcohol, tobacco, and drugs are detrimental to your chances of beating the virus if you were to catch it. Then we will begin our "Stay Home, Stay Safe" program which will provide stay at home jobs to substitute service sector jobs in order to limit the risk of catching and spreading the virus.
Publication Date
7-23-2020
Recommended Citation
Brown, Christopher; Sain, Hadara; Larios, Karen; and Shah, Nida, "COVID-19 Racial Disparities" (2020). DC Health and Academic Prep Program (DC HAPP). 11.
https://hsrc.himmelfarb.gwu.edu/dchapp/11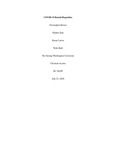 COinS