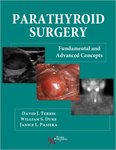 Title
Parathyroid Surgery: Fundamental and Advanced Concepts
Description
With worldwide contributions from experts in the field of parathyroid disease and surgery, Parathyroid Surgery: Fundamental and Advanced Concepts is the only text devoted specifically to the surgical management of parathyroid disease. Chapters include detailed discussions of preoperative diagnosis and testing, advanced imaging techniques and state-of-the-art surgical interventions, and incorporate thorough and judicious reviews of the current medical literature. Postoperative management strategies are also addressed to ensure physicians can safely optimize patient outcomes.
As a resource that includes all of the most critical, new topics in parathyroid surgery, this book will appeal to both surgical and nonsurgical professionals, including general otolaryngologists, general surgeons, endocrine surgeons, head and neck surgeons, surgical oncologists, and endocrinologists.
Publisher
Plural Publishing, Inc.
Keywords
Parathyroid Glands -- surgery; Parathyroid Diseases -- surgery
Disciplines
Medical Pharmacology | Medical Physiology
Recommended Citation
Terris, David J.; Duke, William S.; and Pasieka, Janice L., "Parathyroid Surgery: Fundamental and Advanced Concepts" (2014). Faculty Bookshelf. 39.
https://hsrc.himmelfarb.gwu.edu/books/39