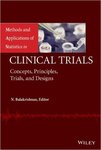 Title
Methods and Applications of Statistics in Clinical Trials, Volume 1 and Volume 2: Concepts, Principles, Trials, and Designs
Description
Volume 1
Methods and Applications of Statistics in Clinical Trials, Volume 1: Concepts, Principles, Trials, and Designssuccessfully upholds the goals of the Wiley Encyclopedia of Clinical Trials by combining both previously-published and newly developed contributions written by over 100 leading academics, researchers, and practitioners in a comprehensive, approachable format. The result is a succinct reference that unveils modern, cutting-edge approaches to acquiring and understanding data throughout the various stages of clinical trial design and analysis.
Volume 2
Featuring newly-written material as well as established literature from the Wiley Encyclopedia of Clinical Trials, this book provides a timely and authoritative review of techniques for planning clinical trials as well as the necessary inferential methods for analyzing collected data.
This comprehensive volume features established and newly-written literature on the key statistical principles and concepts for designing modern-day clinical trials, such as hazard ratio, flexible designs, confounding, covariates, missing data, and longitudinal data. Examples of ongoing, cutting-edge clinical trials from today's research such as early cancer & heart disease, mother to child human immunodeficiency virus transmission, women's health initiative dietary, and AIDS clinical trials are also explored.
ISBN
9781118304730 (v. 1); 9781118304761 (v. 2)
Publisher
John Wiley & Sons Inc.
Keywords
Clinical Trials as Topic; Statistics as Topic
Recommended Citation
Balakrishnan, N., "Methods and Applications of Statistics in Clinical Trials, Volume 1 and Volume 2: Concepts, Principles, Trials, and Designs" (2014). Faculty Bookshelf. 31.
https://hsrc.himmelfarb.gwu.edu/books/31