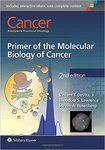 Title
Cancer: Principles & Practice of Oncology: Primer of the Molecular Biology of Cancer (2nd ed.)
Description
Understand and apply the scientific advances that are revolutionizing cancer research and practice with Cancer: Principles and Practice of Oncology: Primer of the Molecular Biology of Cancer. Derived from DeVita, Hellman, and Rosenberg's Cancer: Principles and Practice of Oncology – widely hailed as the definitive clinical reference in oncology – the second editon of this popular Primer focuses on the molecular biology information that is of critical importance to research scientists and clinical oncologists alike.
Get up-to-date, dependable coverage of every important frontier in aspect of the molecular biology of cancer with contributions from a noteworthy roster of leading scientists and clinicians, featuring an updated version of the classic "Hallmarks of Cancer" by Hanahan and Weinberg
See how molecular biology advances are impacting clinical practice with separate chapters on each of the 19 most common cancer types.
Navigate the challenges and ethical dilemmas of cancer genetics with a thorough section chapters on genetic counseling and genetic testing.
Keywords
Neoplasms--etiology; Molecular Biology--methods; Neoplasms--genetics; Neoplasms--physiopathology
Recommended Citation
Divita,, Vincent T. Jr.; Lawrence, Theodore S.; and Rosenburg, Steven A., "Cancer: Principles & Practice of Oncology: Primer of the Molecular Biology of Cancer (2nd ed.)" (2015). Faculty Bookshelf. 11.
https://hsrc.himmelfarb.gwu.edu/books/11